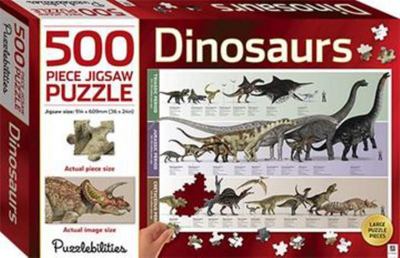 $17.99
AUD
Category: Jigsaw | Series: Puzzlebilities
This fantastic new series of jigsaw puzzles will delight and educate both the young and young at heart. This great 500 piece jigsaws feature a detailed image of the age of dinosaurs and a handy reference image on both the front and back covers that makes it easy to complete with family and friends. Cust omer reviews of our jigsaw puzzles:- 'Both of them helped me learn about the geography of the world in a fun way'- 'Loved it' ...Show more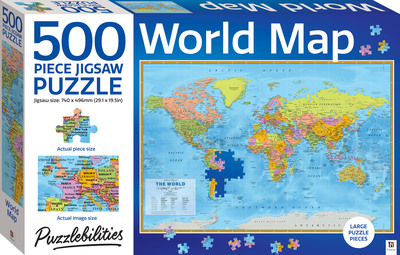 $14.99
AUD
Category: Jigsaw
The World Map 500 Piece Jigsaw Puzzle features a detailed modern map of the world. Puzzlers will not only enjoy the challenge of putting the jigsaw together, but will learn interesting facts at the same time in this fun educational tool! Features a detailed world map and a handy reference image on both the front and back of the jigsaw puzzle box, making the puzzle easy to complete in a group. • 500-piece jigsaw ...Show more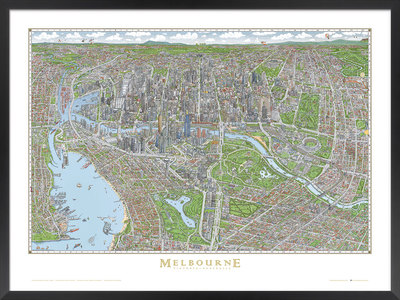 $49.95
AUD
Category: Jigsaw
For serious puzzle enthusiasts, The Melbourne Map Jigsaw Puzzle will delight. Enjoy Melbourne piece by piece in this beautiful 1000 piece jigsaw. The jigsaw puzzle presents not only a challenge but also a chance to wander through Melbourne discovering renowned streets, parks and buildings. Puzzlers wi ll have the chance to delight in every tiny detail that has been created as part of the illustrated hand-drawn artwork. We're thrilled to release the 1000 Piece Jigsaw puzzle version of The Melbourne Map and like the high quality of The Melbourne Map, we wanted to ensure the Jigsaw was also of the best quality and built for purpose. Are you ready to discover Melbourne like never before? The Melbourne Map jigsaw puzzle would make a delightful gift or a keepsake of Melbourne to have as your own. Finished Size: 690mm x 495mm Pieces: 1,000 ...Show more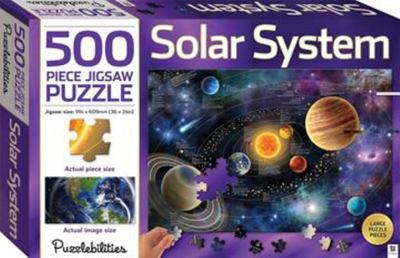 $14.99
AUD
Category: Jigsaw
This fantastic new series of jigsaw puzzles will delight and educate both the young and young at heart. This great 500 piece jigsaws feature a detailed image of the Solar System and a handy reference image on both the front and back covers that makes it easy to complete with family and friends. Customer reviews of our jigsaw puzzles:- 'Both of them helped me learn about the geography of the world in a fun way'- 'Loved it' ...Show more
$19.99
AUD
Category: Jigsaw | Series: KiddieJigs Ser.
This Book n' Puzzle pack features a delightful board book edition of the ever-popular nursery rhyme "Twinkle Twinkle Little Star" with beautiful illustrations by Wendy Straw, packaged together with a gorgeous 16 big-piece jigsaw. Each puzzle piece is 3 x 2.5 inches and the overall puzzle size is 12 x 10 inches. The words and music of this rhyme sing alongside children as they take their first steps towards literacy, while the puzzle is perfect for developing fine motor skills and memory.   Book and puzzle are packed inside a box, with the book's padded cover poking through a die-cut window.. The jigsaw itself is packed inside a clear bag inside the box. ...Show more
$24.99
AUD
Category: Jigsaw
This 252-piece Australia map puzzle is perfect for adults and kids alike. The beautifully illustrated map and accompanying 12-page booklet showcases more than 300 illustrations of flora, fauna, landmarks, attractions and other Australiana, with details that will keep anyone enthralled for hours. Fact bu bbles and keys for the various illustrations of flora, fauna, attractions, shipwrecks and Indigenous rock-art sites will also help you learn more about this country. The 12-page booklet has a page dedicated to each state and territory with additional facts and figures to further enrich your knowledge of Australia's states and territories. The puzzle comes in a durable box for easy storage, and the booklet is attached directly to the front of the box, ensuring the puzzle and information booklet will all stay together.  ...Show more
$34.95
AUD
Category: Jigsaw | Series: Holdson
WILD AND WHIMSY: CASTLE WITH HOT AIR BALLOON 1000 Piece puzzle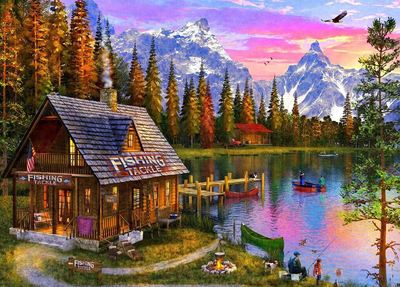 $34.99
AUD
Category: Jigsaw
Artist Dominic Davison's Holdson 1000pc S3 collection of sunsets from around the world is breathtaking. Dominic ensures each image is set perfectly to a time when the skies light up brilliantly in an array of beautiful colours.
$35.99
AUD
Category: Jigsaw
Learn about animals, landmarks, vehicles and more by location with Mudpuppy's Map of the World Geography Puzzle. This 78 piece puzzle includes 17 special puzzle pieces that are shaped like icons of the region, such as the Eiffel Tower and the Taj Mahal. Featuring colourful illustrations, this puzzle is an engaging and unique way to start learning world geography! It is packaged in a sturdy box perfect for safekeeping and gift-giving. 70-78 piece puzzle Puzzle Size: 59 x 42cm when complete Includes special-shaped pieces! Ages 5-9 Box Size: 32 x 23 x 5 cm Puzzle greyboard contains 90% recycled paper. Packaging contains 70% recycled paper. Printed with nontoxic, soy-based inks. All Mudpuppy products adhere to CPSIA, ASTM, and CE Safety Regulations ...Show more