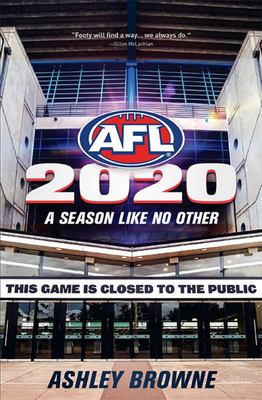 $32.99
AUD
Category: Sport
2020: A Season Like No Other explores how the AFL navigated a season that changed day-by-day for fans, for the clubs, and for the players and coaches. The 2020 AFL Season was like no other in the game's 162-year history. As coronavirus struck down Australia during round one, in March 2020, the AFL was f orced to take unprecedented steps to keep its season alive. The season was postponed at the end of round one, a round without crowds, and resumed on 11 June, a hiatus of 84 days. During that period speculation was rife as to whether the season could proceed, and where. 'Hubs' became the key word, and the fixture was rebuilt to allow for 17 matches -- with clubs playing each other once. By July, as COVID-19 ravaged the country and economy, teams were quarantined, under strict protocols, in NSW and QLD. By the end of July, the WA teams and SA teams were back in their home states, playing before reduced crowds, but all VIC teams had relocated to NSW, QLD, and WA. In one 14-day period, Collingwood was fixtured to play four games. This is the story of how the AFL, the clubs, the players, the coaches, the administration, and the fans coped with history in the making.   ...Show more
$6.99
AUD
Category: Sport
Discover the answers to your questions about cricket, and enrich your knowledge of the game along the way.
$29.95
AUD
Category: Sport
Shoot better. Pass better. Dribble better. Play better. Play Better Basketball is the fully illustrated guide to improving your game. The skills packed between these covers are those that pros like Stephen Curry, Kawhi Leonard and Kia Nurse use to dominate the court. From the fundamentals of footwork t o team defensive strategies, this book teaches you how to play winning basketball no matter the situation. Play Better Basketball applies to all levels of basketball -- from the driveway to the gymnasium. More than 300 step-by-step photographs accompany detailed yet easy-to-follow skill descriptions. Beyond the basics of footwork and body position, these instructions emphasize the decision-making that is key to translating new skills to a competitive basketball game. Grow and refine your skills with 50 dynamic drills, each with built-in modifications to challenge development and make practice exciting. This book was created for athletes who want to raise their level of play, polish their skills and achieve their hoop goals. It's time to play better basketball. ...Show more
$29.99
AUD
Category: Sport
Profiles of the very best NBA players and a definitive history of the game. The spectacular success of the NBA is based on its stars, their performances and personalities, which excite fans game after game, championship after championship. Michael Grange has profiled 50 of the greatest and most electri fying players in the league's history in this newly updated edition of Basketball's Greatest Stars. They're all here: the score-at-will centers, the quick-dishing guards, the take-it-to-the-hoop power forwards and the three-point shooters. The book also features a chapter on future greats who are starting on the NBA hardwood now. Grange's insightful essays cover the leading men and defining moments that have shaped the sport, the international game, the rise of the three-point shot and the changing nature and importance of statistical analysis. As an added bonus there are profiles of all 30 NBA franchises -- the organizations that have orchestrated the league's rise to greatness. Some of the current NBA stars featured in this fourth edition are: DeMarcus Cousins Stephen Curry Anthony Davis Kevin Durant Paul George James Harden Kyrie Irving LeBron James Kristaps Porzingis Russell Westbrook Some of the NBA stars of yesteryear are: Kareem Abdul-Jabbar Charles Barkley Larry Bird Wilt Chamberlain Walt Frazier Magic Johnson Michael Jordan Karl Malone Shaquille O'Neal Bill Russell. Jam-packed with terrific photographs that celebrate each superstar and capture the excitement on the court, Basketball's Greatest Stars is a superb book for every fan. ...Show more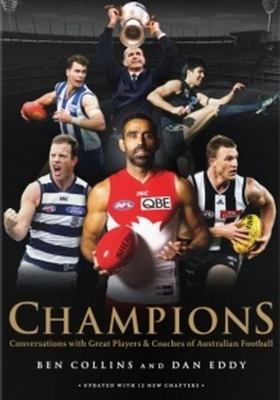 $14.99
AUD
Category: Sport
In Champions: Conversations with Great Players Coaches of Australian Football extraordinary and heroic figures confide their innerthoughts to authors Dan Eddy and Ben Collins, offering a compelling insight into what makes a man truly great in the toughest of sportingtheatres - Australian Football. Now i n its second edition, and featuring conversations with 12 additional greats of our national game,Champions tells first-person stories that educate, inspire, and entertain football fans and general sports fans alike. Through these vivid, personal stories and iconic photographs you will discover the mental toughness, self-belief, courage, passion, work ethic and smarts that have shaped these legends - and ultimately understand what it takes to become a true champion. ...Show more
$22.99
AUD
Category: Sport
A complete training plan that allows anyone to achieve results that were once only available to elite athletes - devised by Michael Jordan's trainer Tim S. Grover.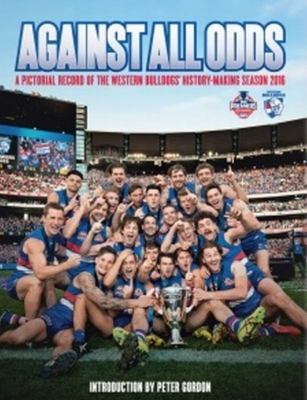 $14.99
AUD
Category: Sport
A pictorial record of the Western Bulldogs' history-making season 2016. The story of the 2016 AFL season is one for the ages, with the Western Bulldogs breaking a premiership drought that stretched 62 years. Players, coaches and fans alike have endured countless broken dreams since the Dogs last triumph ed in 1954, as they have fallen agonisingly short of an elusive flag many times over. In 2016, as the club formerly known as Footscray garnered unprecedented support and goodwill from across the nation, the long wait for a premiership finally ended. But the remarkable aspect of the Western Bulldogs' 2016 season is that a flag rarely seemed possible at any stage along the way, with injury after injury presenting seemingly insurmountable hurdles to the Dogs' aim for another grab of football's silverware. AGAINST ALL ODDS tells the story, through photographs selected from of official AFL Media, and from the Bulldogs' collection, of the Bulldogs' 'impossible' season, from the hard slog of pre-season training on sweltering summer days, to the moment coach Luke Beveridge and captains Easton Wood and Bob Murphy lifted the premiership cup at last on Grand Final day. Chronicling a tale of heartache, hope and ultimately unbridled joy, AGAINST ALL ODDS captures the defining moments of the Bulldogs' 2016 season - including a finals campaign that saw them as underdogs in every final against more experienced teams week after week, from coast to coast, as they overcame each and every setback to achieve a goal that many, if not most, thought impossible. ...Show more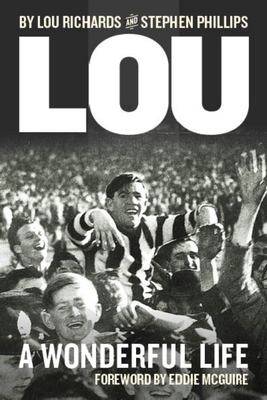 $4.99
AUD
Category: Sport
In celebration of Australian Football legend Lou Richards' immense contribution to the game, and continued services to the sport through his successful media career, the Slattery Media Group is thrilled to publish an updated edition of Lou's memoirs, first released in 1989.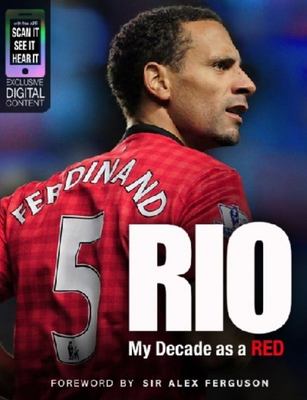 $12.99
AUD
Category: Sport
Rio: My Decade as a Red in Australia ahead of its global release. The book will be published in hardback in August to coincide with Manchester United's pre-season tour in Sydney. The book comes with exclusive digital content including images, video footage of Rio Ferdinand and his Manchester United team mates. ...Show more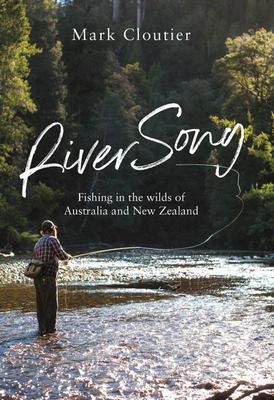 $12.99
AUD
Category: Sport
Although there's plenty of practical advice here, this book is more about why we fish, what makes it special and how it makes us feel.' – Mark Cloutier Every fisherman has a special stretch of water, where the fish are always plentiful and the memories flow. River Song revels in each of celebrated fish ing writer Mark Cloutier's special locations, discovered over four decades fishing the mountain streams and lakes of Australia and New Zealand. Each tale conjures the romance of days spent chasing the perfect catch, and the insight that only quiet hours spent in the wild can bring. With gorgeous black-and-white photography from Mark's adventures, River Song is a loving ode to fishing's power to soothe the soul, and the perfect gift for anglers and nature lovers alike. ...Show more
$29.95
AUD
Category: Sport
The greatest players in the NBA... NOW Like Hockey Now and Football Now , Basketball Now has earned its place as an anticipated release, giving fans the inside stories about their favorite superstars. This third edition is packed with 130 action images and 50 profiles, including a fresh crop of youn g players whose swagger and skills launched them to league-wide stardom. Bona fide superstars, rim-rocking rookies and future Hall of Famers, plus the all stars of tomorrow, the best international imports and the underrated players that can change a game -- they're all here. Look out for elite names like Stephen Curry, Kevin Durant, Giannis Antetokounmpo, James Harden, LeBron James, Kawhi Leonard and many, many more Author Adam Elliott Segal gives readers an inside tour of all things NBA, including essays on the Draft, the Dunk Contest and the best clutch and playoff performances in the history of the league, as well as a summary of MVPs (regular season, All-Star Game and Finals) up to the end of the 2018-19 season. Mind-boggling athleticism, career-changing plays and pure magic -- Basketball Now has it all, straight from the hardwood. ...Show more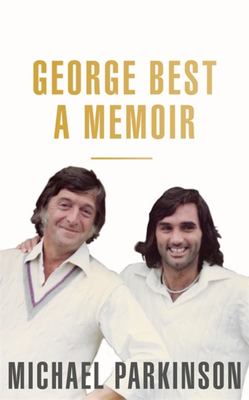 $32.99
AUD
Category: Sport
Michael Parkinson and George Best faced one another countless times in interviews. Their conversations were mutually respectful, even intimate, yet always brimming with searching questions and revealing answers. The great Manchester United and Northern Ireland attacker - one of the few sports personali ties to merit the term 'iconic' - was almost always candid, lucid and self-effacing. Alcoholism had him in its grip from an early age, affecting the love affairs that fed the tabloid headlines, but there was far more to Best than booze and birds. In George Best: A Memoir, Michael Parkinson draws upon decades of award-winning journalistic experience to re-evaluate a remarkable footballer and a damaged friend. The book weaves together recollections of when the 'the fifth Beatle' ensured it was Manchester, not London or Liverpool, which made the Sixties swing; of Best enjoying a carefree kickabout with the Parkinsons' children in the family garden; and selected transcripts from their endlessly fascinating interviews. 'Where did it all go wrong?' is the punchline to a famous Best story. George Best: A Memoir provides Michael Parkinson's considered response to the question while bringing fresh insight into the footballing genius that made Best one of the immortals and the self-destructive side of his character. ...Show more